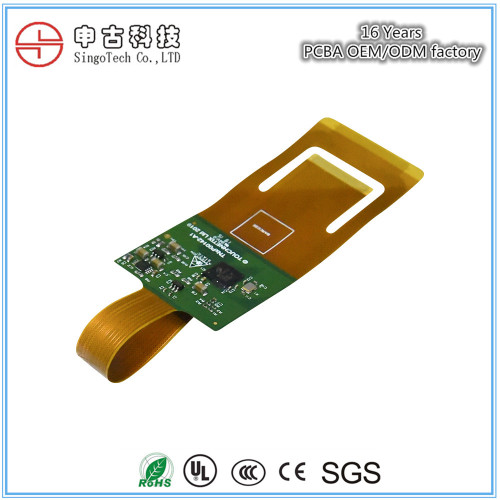 We are a leading Flexible PCB manufacturer in China with over 16 years of experience.
Item specifics
Layer

1-50 layer
Material

FR4, CEM-1, High TG, FR4 Halogen Free, FR-1, FR-2
Thickness

0.2-7 mm
Description
We are a leading Flexible PCB manufacturer in China with over 16 years of experience.
Flexible circuits (also variously referred to around the globe as flex circuits, flexible printed circuit boards, flex print, Flexi-circuits) are members of electronic and interconnection family. They consist of a thin insulating polymer film having conductive circuit patterns affixed thereto and typically supplied with a thin polymer coating to protect the conductor circuits. The technology has been used for interconnecting electronic devices since the 1950s in one form or another. It is now one of the most important interconnection technologies in use for the manufacture of many of today's most advanced electronic products.

At SINGO, we offer you high-quality Flexible PCB to meet your bespoke requirements.
Flexible printed circuit boards offer a number of potential benefits including:
*Saving Space:
Flex PCB design requires only about 10 percent of the space and weight of an ordinary circuit board assembly, offering greater installation and packaging freedom. The inherent flexibility also permits tighter bend capabilities.
*Maximum Reliability:
A flexible printed circuit board requires fewer interconnects, which in turn requires fewer contact crimps, connectors and solder joints. Simply put, a flexible PCB board does not contain as many potential sources for failure, which enhances their reliability.
*Enhanced Capabilities:
The flexible printed circuits boards are compatible with virtually any type of connector or component and works well with options such as ZIP connectors. They also perform extremely well in extreme temperatures and offer superior resistance to radiation and chemicals.
*Cost Savings:
Cost-saving advantages of Flexible PCBs include reduced material and packaging demands, lower parts replacement costs and assembly errors that could result in the need for repairs.
These benefits make flex PCBs ideally fit for a wide range of applications in industries such as Military, Transportation, Medical, Consumer Electronics, Automotive, Aerospace, Communications and Industrial.

SINGO ADVANTAGE AS AFLEXIBLE PCB MANUFACTURER

Whether you are looking at custom flexible circuit boards, new product launch and have the requirement for flex PCB prototypes or are looking for a large production run, you need to avail of the Technotronix advantage. At SINGO, we have over 15 years of fabricating and assembling a wide variety of flexible circuit boards. With state-of-the-art equipment, we deliver the highest quality boards that you can rely on. Armed with an experienced flex PCB manufacturer team that can advise you on industry best practices, what you get when you join hands with us, isn't just a vendor but a partner who is invested in your success. No matter how complex your requirement, you can count on us to deliver to your bespoke needs. Our stringent quality control processes ensure that the boards deliver to your benchmarks.
Another major reason why a huge portfolio of clients reposes their trust on us, is the fact that we offer quick turnaround times that in turn give you great competitive advantage. Irrespective of the quantity required by you, count on us to stick to our deadlines.
All you need to do is to share your detailed requirements of flexible circuit boards with our team and we will get back to you with a competitive, custom quote.
1. What are flexible circuit boards?

Flexible circuit boards are a combination of printed circuits with components which are positioned on a flexible substrate. They are also known as flexible printed circuit boards, flex PCBs, flexible printed circuits and more!
2. What are the advantages of using flexible printed circuit boards?

Using flex eliminates or completely decreases cable cost, it is known to reduce assembly time, and produces a lighter end-product. They are also known for their high tensile strength and reliability.
3. How much do flex circuit boards weigh?
Flex circuits weigh far less than their rigid counterparts. While the thinnest rigid board could weigh 500 microns, a typical flex may be only 100 microns.
4. Are there any design rules for placing parts on the flex printed boards?
As a thumb rule, it is recommended to place parts where the flex has a stiffener!
5. Why is a stiffener used in Flex PCBs?
A stiffener serves many functions:
*To strengthen areas of the board
*To support PCB components
*To keep certain areas flat and stable
*To constrain the flexible parts to specified areas.
6. Do you cater to multi-layered flex boards?
Absolutely! Do let us know your bespoke needs for any kind of multilayer flexible PCBs and we will get back to you with quote as soon as possible!
7. What type of flexible circuit boards do you provide?
As a leading flexible printed circuit boards manufacturer, we provide single sided flexible circuit boards, double sided flex PCBs, multilayer flexible printed circuit boards, rigid-flex PCBs, HDI flexible circuit boards & more!
8. Which type of material you are using in flexible PCB manufacturing?
We use copper, aluminum, electrodeposited (ED) copper, Rolled Annealed (RA) copper, Constantan, Inconel, silver ink, and more based on custom specification.
9. What kind of surface finishes do you offer for custom flexible circuit boards?
We cater to the following surface finishes:
*HASL - Hot air solder leveling
*Lead - free HASL - RoHS
*ENIG - RoHS
*Immersion Tin - RoHS
*OSP – RoHS
10. Are flexible circuits more expensive than rigid PCBs?

On the face of it they may seem more expensive, but given the cost savings that they offer in terms of reduced materials and packaging demands, reduced assembly errors and reduced parts replacement costs, there are sizeable cost savings.