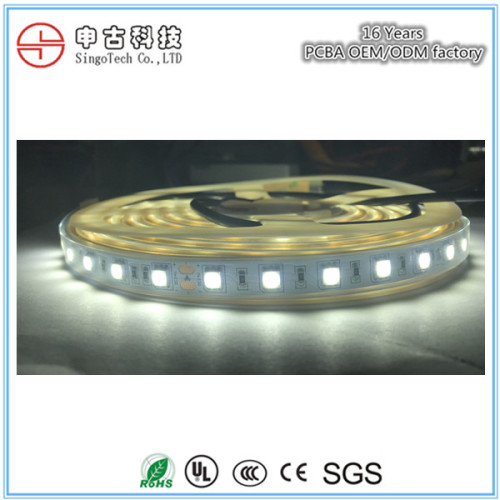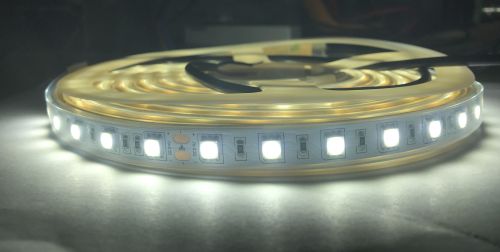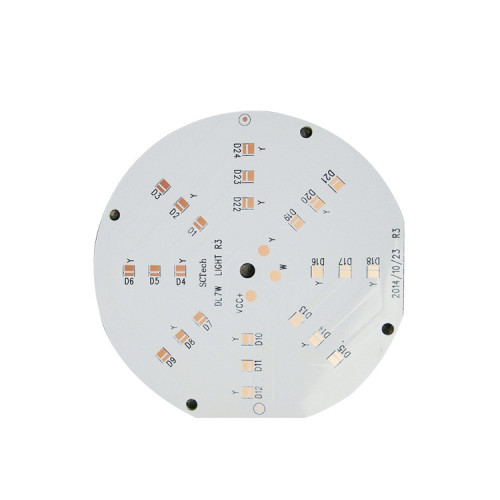 Aluminum PCB is one type of metal core printed circuit board (MCPCB)
Description
We are a leading Aluminum PCB manufacturer in China with over 16 years of experience.
Aluminum PCB is one type of metal core printed circuit board (MCPCB), widely be used in LED lighting industry.
If you are looking for Aluminum PCB Manufacturer, we have rich experience in manufacturing Aluminium PCB with high thermal conductivity , we offers a first class service and extensive high-tech options.
MCPCB, Metal Core PCB, thermal PCB – whichever name you prefer, they are all boards which use a base metal material as the heat spreader portion of the circuit board.These types of are typically fabricated with a metal base consisting of aluminum (most common) but can also be produced with copper.
APPLICATIONS OF ALUMINUM PCB

*General lighting applications (Streetlight , Flashlight, Spotlight, etc.)
*Back light unit applications
*System automotive LED applications
*Power converters: telecom, high voltage regulator, power supplies
*Hybrid/electric motor control applications
*Photovoltaic
SINGO ADVANTAGE AS A ALUMINUM PCB MANUFACTURER

At SINGO, we are a reliable ALUMINUM PCB Manufacturer, for a whole range of industries when it comes to metal core PCBs. This is made possible on account of the fact that we use cutting edge technology to meet the custom requirements of our clients. The fact that we have over 15 years of experience in manufacturing state-of-the-art metal core printed circuit boards and have a huge body of industry knowledge makes us a go-to PCB partner. Our strength also lies in our team of PCB experts, which is equipped with industry best practices and thus is a great support in manufacturing custom metal printed circuit broads to your exact requirements.
The fact that all our metal PCBs undergo stringent quality checks means that you can rest assured that what you are getting are the finest quality products that comply with the highest PCB industry standards.
The big advantage that we offer is also that we offer quick turnaround times. This, in turn, helps give a boost to your go-to-market plan and offers you a huge competitive advantage. Our vast network of component suppliers also ensures that we are able to offer you the most cost-effective prices.
Whether your requirement is for metal core PCB prototypes or large production runs, you can count on our metal core circuit board services, knowing that the volumes will not come in the way of quality. We are also fully equipped to offer you turnkey metal core PCB manufacturing services that allow you to focus on your core business and allow us to take on the entire end-to-end work.
Reach out to us with your bespoke requirements and allow us to offer you custom quotes.
1. What is Metal Core Printed Circuit Boards?

A Metal Core Printed Circuit Board also known as a thermal PCB or metal backed PCB, is a type of PCB that has a metal material as its base to help dissipate heat.
2. What is the difference between FR4 PCB vs. MCPCB?

The biggest difference between the two lies in terms of thermal conductivity. While MCPCB has higher thermal conductivity, ranging from 1.0W-4.0W, FR4 PCB has low thermal conductivity, usually around 0.3W.
3. What is the advantage of using metal core printed circuit boards?
The most important benefit of metal core printed circuit board is its ability to dissipate heat. With components that aren't overheated, performance is optimized.
4. Do you offer Multilayer Metal Core PCB?
Yes, our state-of-the-art facilities are fully equipped to offer multilayer metal core PCB.
5. What is the base material that you can offer in metal core PCB manufacturing?
We are equipped to offer Aluminum, Copper, Steel, Stainless steel and Iron Alloy as base material.
6. What is dielectric layer in PCB Metal Core?
Metal core is not enough to heat transfer, there is insulated conductor between copper layers & Metal core, we call it dielectric layer.
7. What kind of surface finishes do you cater for metal core printed circuit board?
We can offer you Immersion Gold, HASL and OSP surface finish & also offer custom finishing for metal core circuit boards.
8. Can you provide metal core PCB prototypes?
Yes, we are fully equipped to provide metal core PCB prototypes, as also large production runs.
9. What Metal Core Printed Circuit Boards thickness you can cater?
We cater to Metal Core Printed Circuit Boards thickness between 0.5mm~3.0mm.
10. Can we rely on you for turnkey metal core printed circuit board services?
Yes absolutely. Our turnkey services ensure that you can focus on your core business while we deal with end-to-end metal core PCB production.